LET US CONTINUE...
Select the Background Copy. <<< IMPORTANT!
In your Menu Options select Gaussian Blur
Make the Radius 1,5 Pixels.
Ohh now it looks nicer ya?

Maybe you will see some more things you have missed with the Blur Tool now, so make sure you get them before the next step!!
The following step is how to make the armors more shiney and look more real, basically you enhance the sunspots on the armor.
Duplicate the Background Layer and name it 'Light 1' , drag this on top of the background and the background copy.
Go to your options menu and you will find Desturate as seen below.
Everything will turn black and white now. Dont worry, it's what we want at the moment. Now go to the options menu again and select Levels.
Drag the black icon to the right as you can see in the screenshot below, so you will only see the most important white glimses on your screenshot. Make sure not too much is still white.
Now what we want to achieve here, what we want to reach is 'SUNSPOTS ON THE ARMOR', so we are going to Maximize things first. Find it on your Menu Options as seen below:
Set the Radius to 3.
Now everything will be in big white spots. Now we take the Pencil Tool found in your Toolbar.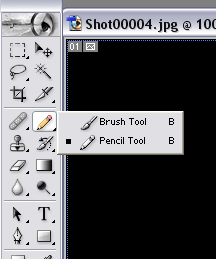 Make the color of the Pencil Tool black like the background!!
Now as you can kind of see Devine's head here holding the sword (CLOSEUP). But of course, Devine's head can not be glowing because of the sun lol!!
So use the Pencil tool to make some skin parts and other parts non-white. Make it black like the background. This means whatever is white will glow and whatever is not white will not glow. Dont overdo it on the glow parts. You really only want a few spots here and there or it will become too much and too much is not good.
Usually I paint everything black in the background which could be glowing, because I want to focus on my character.

If you are not sure what needs to glow or not, just uncheck the little eye on the Light 1 Layer to see the original layers and check it again to see if you should let something glow. Confused? Don't worry it will become clear very soon.

Now we are going to make the glow a little more natural. So add another Gaussian Blur (found in the Menu Options), this time of 3 pixels.
It should look something like this now:
Now set the Light 1 Layer as Linear Dodge and VOILA SUPERGLOWWYYY. Maybe it is too much right now, or look too bright, but we will fix that later.
You can also set this as a Color Dodge layer, whatever you thinks gives the best glow effect. It is different with every screenshot in my experience.
Now to add even more glow, but a softer glow, Duplicate the 'Light 1' layer and name it 'Light 2'. Drag it on top of the other layers as seen below:
Now set 'Light 2' layer as Normal, so it is all black again with a few white spots.
Now go to Menu Options again, go to Filter > Other > Maximum. This time make the Maximum 5!
Now add another Gaussian Blur, also of 5 or something around 5.
Now set this layer as 'SCREEN'! LOL wow alot of glow!! (Too much glow lol!! WTF)
This next step is pretty cool. I used to mess around with those two layers the whole time (light 1 and 2), now I just do this:
Change the OPACITY of the Light 2 layer to around 50, so that the glow DECREASES by 50%. Should look better IMO. You can change this to whatever you like, 50, 60, 40, whatever you feel looks best for the screenshot.
Do the same for the Light 1 Layer, select it and change the opacity to around 50. Looks better right? Well I thought so.