I found this on L2Gold forums. Thx to the creator of this thread!
-------------------------------------------------------------------------
For Robes
For Light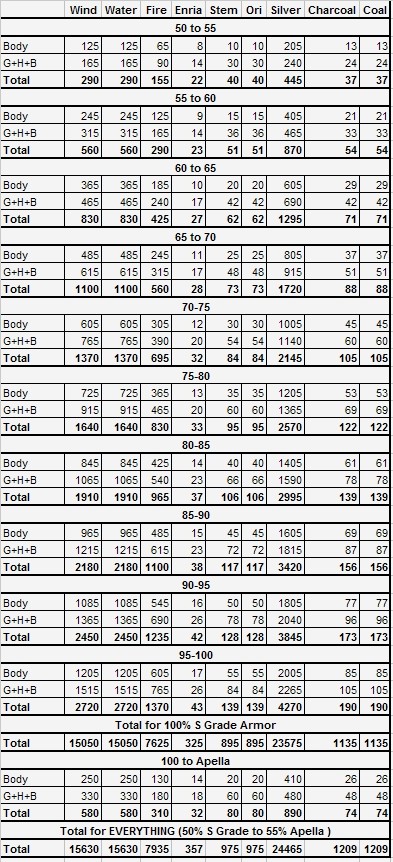 Had to guestimate on the enria because it starts at 14 enria for the g+h+b, but I assumed the enria increase matched robes so I just followed how robes increased. Since the enria is 357, which matches heavy, I assume this should be correct.
For Heavy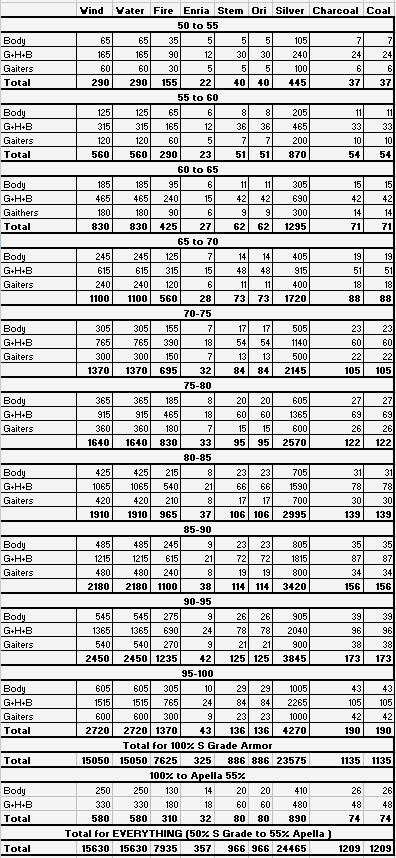 Adena Needed should be about the same as robes.
Apella 55-100%
Here is a calculator posted by Hidaru to determine the amount of materials needed to upgrade your Apella from 55% to 100%.
http://www.l2gold.org/calculator.xls
Each of the different Apella sets require the same amount to refine to 100%.
For those who are too lazy to download the calculator and figure it out, here are the values needed to go from 55% to 100% Apella
Wind - 29520
Water - 29520
Fire - 14940
Enria - 498
Stem - 1710
Ori-ore - 1710
Silver Nuggets - 46260
Charcoal - 2196
Coal - 2196
Adena - 378,000,000
Equations to solve the amount of enria it takes to go from 50 to 100% robes:
Main Body Piece is 10n + 45
Gloves + Boots + Helm is 10n + 20 (you would multiply your result by 3 to get the total). n is the starting amount of enria you need.
So for robes its 10x8 +45 = 125 and (10(4)+20)3 = 180. The total is 305, which you can see in the images.
The reason I wrote out equations is that the Dev's can change the amount of Enrias needed to make Apella, so if you know the equation and the starting value of enria needed for a piece of apella, you can easily figure out the amount of enria on your own.
-------------------------------------------------------------------------------------